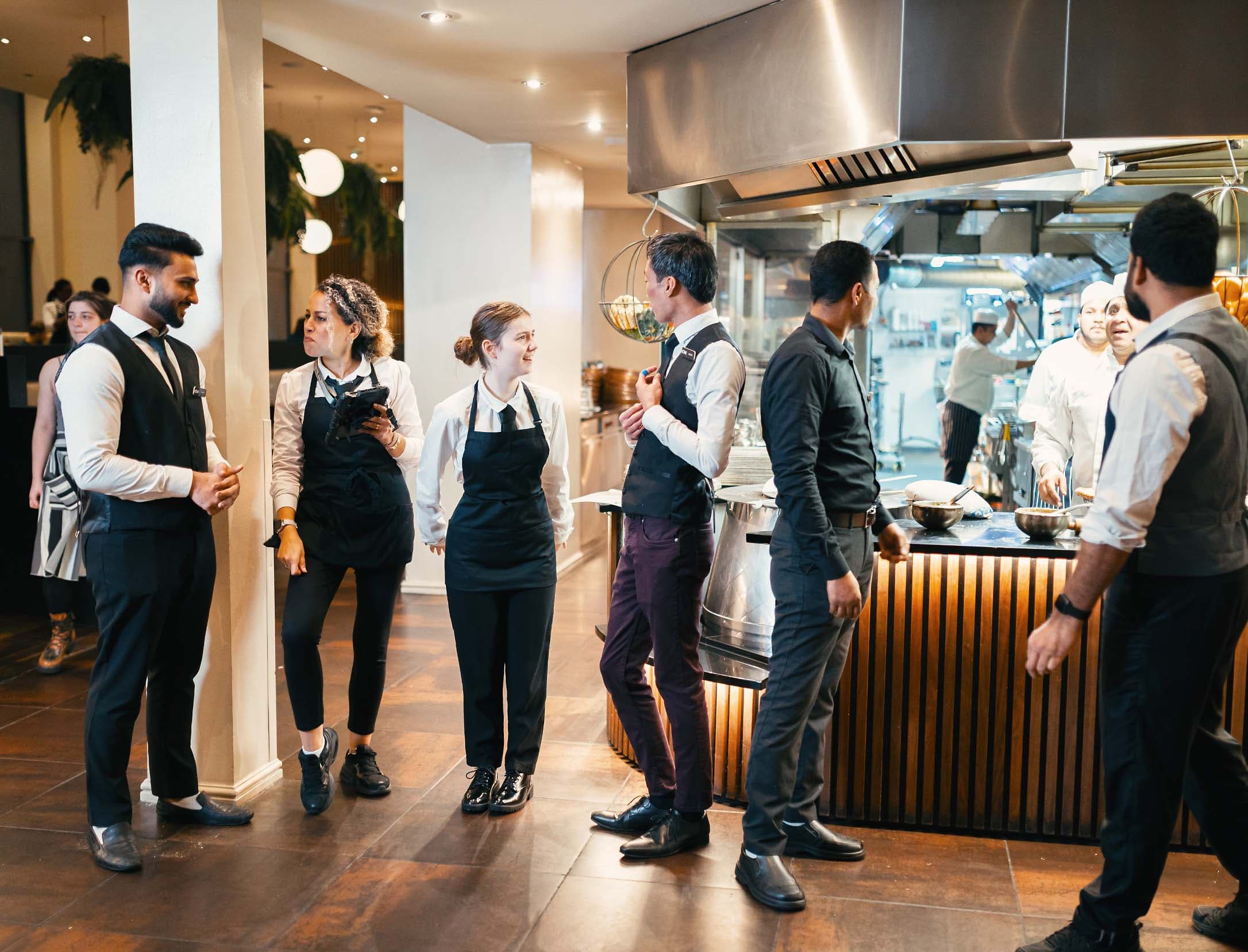 FAQ
FAQ

Book your table here
We are open midday-midnight every day, that's 12pm-12am 365 days a year! So there's 12 hours every day you can enjoy food, drink and shisha at Zouk Manchester!
The quickest and easiest way to book is on this website. Simply head to our booking page here. If you have any additional queries or special requests, please reach out on 0161 233 1090 or drop an email to manchestermanager@zoukteabar.co.uk. Please note this inbox is usually monitored Monday-Friday 10am-6pm, so there may be a delay in response if you contact us during the evening or over the weekend.
For parties of 10 or more, please see the relevant FAQ below or our dedicated Parties and Groups page.
We're situated on Chester Street, just off Oxford Road in central Manchester. We're roughly a two-minute walk from Oxford Road train station. Our outside terrace is covered in flowers that we update each season, so you can't miss us! We're also really close to lots of fabulous venues such as The Palace Theatre, Bridgewater Hall, The Opera House, O2 Ritz, HOME, The Dance House and plenty of other popular locations. Our full address is:
Zouk Tea Bar & Grill, Unit 5 The Quadrangle, Chester Street, Manchester M1 5QS
There is on-street parking to the front and side of our restaurant, as well as an NCP car park a couple of doors down. On-street parling is free after 8pm but ticket meters need to be used prior to this.
Yes. The main restaurant space is fully accessible, with accessible toilets and a ramp to our raised seating. Our mezzanine space is accessible via stairs only.
Zouk is a vibrant and busy restaurant, so we do NOT allow dogs or pets inside the restaurant or the terrace. The space isn't suitable for animals due to noise levels and customer numbers. However, we do of course allow trained service dogs to accompany their owners in the restaurant and make an exception for these dogs as we wish our venue to remain fully accessible to all.
Yes, all our meat is halal. We only work with trusted suppliers and source all our meat locally from accredited halal butchers we have worked with for many years. We ensure they are regularly audited and that their halal certification is maintained. We sometimes get asked if we are halal certified. As we are a restaurant and play no part in the slaughter or butchery process, we do not feel this is necessary. Our meat suppliers all have halal certification and we feel that this is sufficient for us and our customers.
We can accommodate a wide variety of special dietary requirements and offer a range of dishes suitable for different needs. We provide a full allergen index on all our menus and our staff are always happy to help if you have additional queries.
Whilst we follow strict practices to avoid cross-contamination of allergens, please note that there are a large number of dishes prepared in our kitchen which do include nuts, gluten, seafood or other allergens. Our food may not be suitable for someone with a severe allergy.
If you can arrange it, we can host it! We're always happy to accept large bookings and our venue is perfect for any kind of celebration or special event. For parties of 10 or more, we provide a range of set menu options. These are fabulous for large bookings and make planning a group meal really simple.
We require a £5 deposit per person to secure your booking when arranging a large party. This is non-refundable in the event of a cancellation, but transferable to an alternative date provided 48 hours' notice has been given. The full deposit amount is deducted from your final bill on the day of your party. Further information and contact details can be found on our Parties and Groups page.
Children of any age are welcome in our restaurant. We offer a kids' menu (with activities) and have several highchairs for use at your request. Please be aware that Zouk is a busy restaurant so may not be suitable for younger children after 8pm.
Guests are always welcome to bring any kind of celebration cake. We would usually ask that these are brought to our venue no earlier than one hour before your visit. For any special arrangements, please get in touch in advance. We have sparklers we can pop in any dessert and our staff will sing a tuneful Happy Birthday if you'd like.
Guests are always welcome to bring balloons or decorations for the table, or any kind of celebration cake. We do not provide any décor ourselves and we would usually ask that these are brought to our venue no earlier than one hour before your visit. For any special arrangements, please get in touch in advance.
Certain dishes always require pre-order, such as our Leg of Lamb or Whole Roast Lamb. If you are coming with a group and would like to place a pre-order instead of dining from our set menus, please get in touch via 0161 233 1090 or manchestermanager@zoukteabar.co.uk so we can discuss your request. We usually require payment upfront for any pre-orders, to avoid loss of earnings in the event of a no-show.
We are always happy to arrange a takeaway order for collection, please call us on 0161 233 1090 or pop into our restaurant to place your order. There is a 10% discount on the standard menu price when ordering takeaway food.
We do not have our own delivery drivers, but we do work with multiple delivery partners – please head to Deliveroo, JustEat, or UberEats to place an order for delivery.
Yes, we have a fully stocked bar. Please note we operate a Challenge 25 policy at all times. As we keep a halal kitchen, our bar is in a separate location in our restaurant.
Yes, our shisha terrace is open daily midday-midnight. Please note this area is strictly for over 18s only and we operate a Challenge 25 policy. No children or infants are permitted on the terrace at any time.
Our terrace is operated on a first-come-first-served basis, we do not take regular reservations for this space although private hire is available.
Not at the moment. Following the pandemic, we are open from 12 noon daily. We do not have any plans to extend our opening times at this stage, but our offerings are always under review and we'll be sure to shout about any changes.
Of course! We have a separate bar area where guests are welcome to enjoy a few drinks and/or nibbles. Our shisha terrace is also an ideal location for relaxation and recuperation – our full food and drinks menu is available outside.
Our full Sunday Roast menu is only available on a Sunday from 12 noon – 6pm. Sundays are very busy, so we always recommend reserving a table in advance via our bookings page here. Please note due to the popularity of Sunday Roast this menu can occasionally sell out towards 6pm, so book please book as early as possible to avoid disappointment.
Zouk Special Roasts are available at other times, please see details below.
Our Whole Roast Chicken (which serves 1-2 people) and Leg of Lamb (which serves 4-6) can both be ordered for any day of the week with 2 hours' notice. Our Whole Stuffed Lamb (which serves 15-20 guests) requires a minimum of 48 hours' notice due to marination and cooking times. All of the above are served with seasonal vegetables, spiced potatoes and spicy gravy. The Whole Lamb also includes rice. Please head to our dedicated blog post here for more information, or get in touch via 0161 233 1090 if you'd like to place an order.
Please read our blog post which has all the information here.
We have a beautiful mezzanine floor which is the perfect space for parties and events. This flexible space still has the buzz of the main restaurant but is a little quieter and works well for parties or groups. Private hire of the whole area is usually suited to larger groups, as the mezzanine can seat up to 100 guests and often has a minimum spend condition for exclusive use. Please check out our Parties and Groups page for more info, or get in touch to discuss availability and booking conditions via 0161 233 1090 or manchestermanager@zoukteabar.co.uk.
We offer a variety of outside catering options and would be delighted to provide for your event. From birthdays to weddings, corporate events to family feasts and beyond! Please take a look at our external catering page for menus and more information.
Please see our blog for the latest offers and promotions we have available. You can also follow us on social media for the latest news or subscribe to our newsletter at the bottom of this page for exclusive customer offers, including a 20% discount on your next visit to Zouk.
Yes we do, please visit our blog here for further information.
We do offer account facilities for companies and organisations wanting to make regular group bookings. Please contact us to discuss this via 0161 233 1090 or manchestermanager@zoukteabar.co.uk.
Yes, please contact us via 0161 233 1090 or manchestermanager@zoukteabar.co.uk to make suitable arrangements. We cannot take payment over the phone, but we offer a number of methods for advance payment.
In our always on society lives today are busy and hectic. It's hard to find time to relax and enjoy these simple pleasures. We wanted to create a space for our customers to escape the hustle and bustle. To step into an atmosphere with a holiday vibe
Our Menus